The #1 Rated San Antonio Plumbing Service
Chambliss Plumbing Company of San Antonio, Texas is an esteemed name in the plumbing industry. For over three decades we have provided our customers with the best plumbing services across both residential and commercial spaces – building our solid reputation along the way.
Chambliss Plumbing's services and expertise include installing Rheem tank-type water heaters. Our team's extensive knowledge and experience ensure customers enjoy reliable and cost-efficient solutions for water heating. From repairs on existing Rheem water heaters to installing new ones, Chambliss Plumbing technicians have you covered!
As well as Rheem tank-type water heaters, we also service and install tankless water heaters. Because we understand their unique requirements, our comprehensive services ensure optimal performance and customer satisfaction.
Additionally, we specialize in all forms of plumbing services including repairs & maintenance, drain cleaning,  and home repiping – so whether it be repair & maintenance work to plumbing installations you require, we're here for all types of needs.
A Team of Reliable Plumbers in San Antonio TX
Chambliss Plumbing's decades of experience and commitment to superior craftsmanship has won us the trust of countless customers, who rely on us for plumbing services in their community. With fair pricing and close attention paid to detail, Chambliss is known as one of the best go-to plumbers in San Antonio.
Chambliss Plumbing can meet all your plumbing needs – whether it be residential or commercial. Furthermore, our team takes an active effort to stay current on industry advancements and techniques allowing us to face even the most complex plumbing challenges head on by employing unconventional strategies when necessary.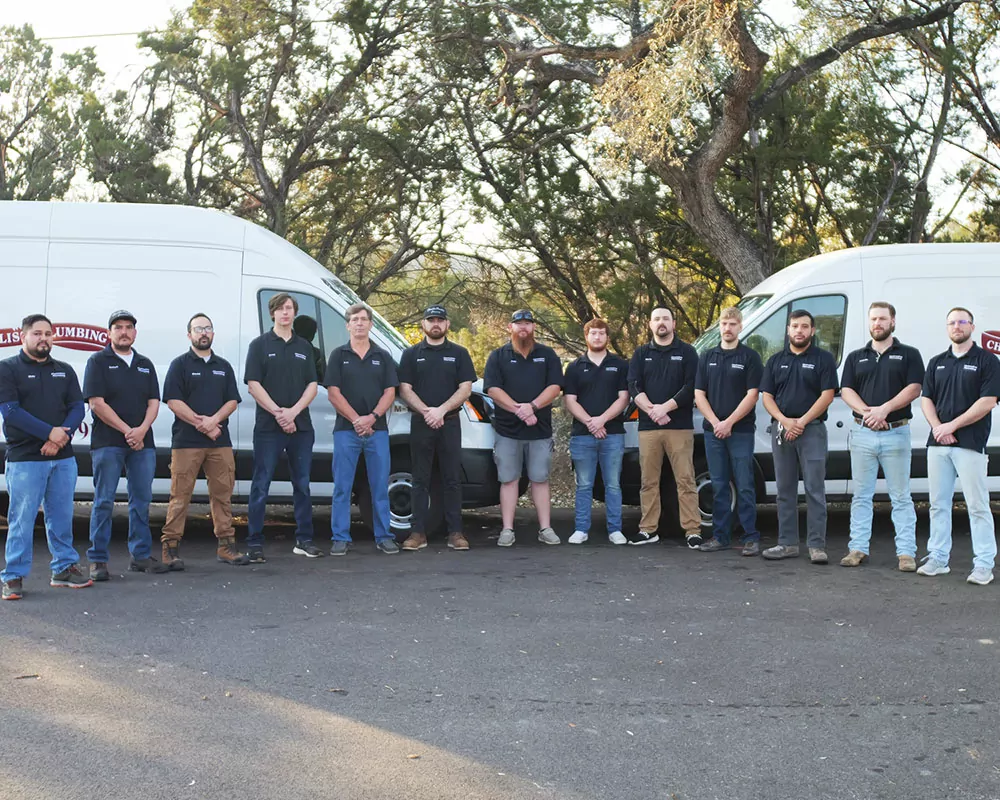 Save Money on Select SA Plumbing
Services if Your a First Time Customer
If you're a first time customer, make sure you utilize these savings for your next San Antonio Plumbing project.
Common Plumbing Problems in San Antonio
San Antonio's plumbing system is an integral part of the city's infrastructure, ensuring the efficient delivery and removal of water for consumption as well as waste. As one of the largest cities in Texas, it boasts an intricate network of pipes and fixtures which serves the city's residential, commercial, and industrial districts.
One of the primary issues residents in San Antonio face is leaky plumbing systems. Like all cities', San Antonio's is vulnerable to water leakage for various reasons including old infrastructure, corrosion and improper installations; left unaddressed these leaks can result in water wastage, increased utility bills and possible long-term damage.
Another prevalent problem encountered by San Antonio residents is clogged drains and sewer lines. Over time, debris, grease, and foreign objects can accumulate in the pipes, obstructing the flow of water and causing backups. If not resolved promptly, this can result in unpleasant odors, slow drainage, and even sewage overflows.
Furthermore, hard water is a common issue in San Antonio, as the region has high mineral content in its water supply. Hard water contains excessive amounts of minerals like calcium and magnesium, which can cause scaling and buildup in plumbing fixtures and appliances. This buildup can reduce water flow, decrease appliances' lifespan, and thus require frequent professional plumbing repairs or replacements.
Plumbing Issues During Extreme Weather
In addition to all the common problems, San Antonio's home plumbing system can be susceptible to damage from extreme weather conditions. During periods of freezing temperatures, pipes can freeze and burst, causing significant water damage to homes and commercial businesses. Similarly, intense heat and drought can stress the plumbing infrastructure, potentially leading to pipe bursts or water shortages.
To tackle these issues, San Antonio residents must rely on professional plumbing services like the one we provide at Chambliss Plumbing Company. Our plumbers have the expertise to diagnose and resolve various plumbing problems promptly and efficiently.
Additionally, residents can take preventive measures such as installing water softeners and being mindful of what goes down their drains to minimize potential plumbing issues.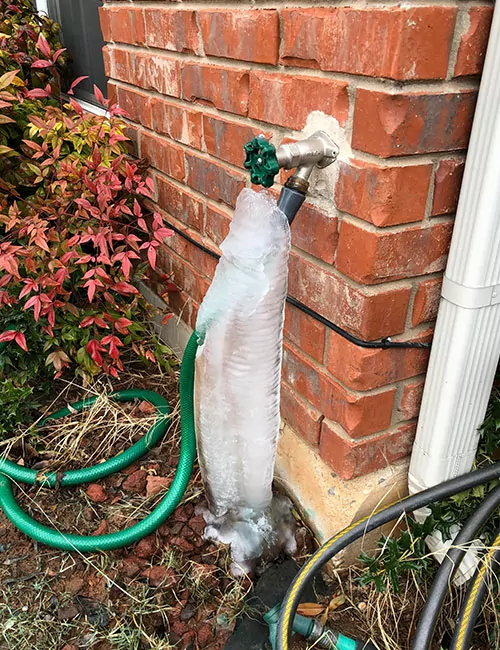 If you're unsure on how the whole process works with working with a plumbing company, we've broken it down into a simple 4 step process to ensure that you're not left in the dark along the way.
Identify Problem
Contact & Initial Consult
Quote & Service
Oversee & Evaluate
Identify Problem
Before approaching a plumbing company, it's important to identify your issue as effectively as possible. Are you dealing with leaks, blocked pipes or malfunctioning fixtures? The clearer your explanation, the quicker and more efficiently a plumber can assess your situation. Once identified, contact us by filling out our form or giving us a call at (210) 490-7910 to start the process.
Contact & Initial Consult
Quote & Service
Oversee & Evaluate
About The City of San Antonio, Texas
San Antonio, Texas, is a vibrant city with a rich history and a multitude of captivating points of interest that draws visitors from around the world.
At its heart lies the iconic Alamo, a historical site renowned for its pivotal role in the Texas Revolution. This former Spanish mission-turned-fortress is a symbol of bravery and sacrifice. Visitors can explore the Alamo's grounds, museum, and preserved structures, immersing themselves in the compelling story of Texas' fight for independence.
Just a stone's throw away from the Alamo is the enchanting River Walk, captivating visitors with its picturesque scenery and lively atmosphere. Lined with restaurants, bars, shops, and hotels, this pedestrian-friendly pathway winds along the San Antonio River, offering a delightful ambiance for leisurely strolls or romantic boat rides.
For those who want an authentic taste of San Antonio's vibrant culture, a visit to the historic Market Square, also known as El Mercado, is a must. This colorful Mexican marketplace showcases a kaleidoscope of traditional crafts, clothing, and culinary delights. Visitors can savor delicious Tex-Mex cuisine, shop for cool souvenirs, and soak in the lively atmosphere enriched with mariachi music and folkloric dances.
The San Antonio Missions National Historical Park highlights the city's colonial past. This UNESCO World Heritage Site encompasses four well-preserved Spanish missions, including Mission San José, Mission Concepción, Mission San Juan, and Mission Espada. Exploring these missions offers insight into the region's early history, architecture, and the influence of Spanish colonization.
The city also has various family-friendly destinations, including the renowned theme park SeaWorld San Antonio. Here, visitors experience thrilling rides, observe diverse aquatic life, and attend captivating shows featuring dolphins, whales, and sea lions.
Lastly, the Tower of the Americas provides breathtaking panoramic cityscape views from its observation deck. At a towering 750 feet, this architectural marvel offers an unparalleled vantage point to admire San Antonio's beauty and charm.
Our Most Recent User Reviews from Actual Customers
Don't Settle For Less
When You Can Get The Best!
San Antonio boasts many plumbing services, but our expert plumbers stand out as being the top choice in San Antonio. Trusted by both residential and business property owners alike, whether they require water heater installation, leak repairs, or their entire plumbing system upgraded – you can depend on us!
We offer high quality service to our customers and never sell you anything you don't need. We treat every person they way we'd like to be treated and this not only extends to our customers, but to our employees as well.
Do you have questions or require plumbing services in San Antonio? Reach out to us now to schedule your next appointment.